Mike looking mighty evil on the 6 string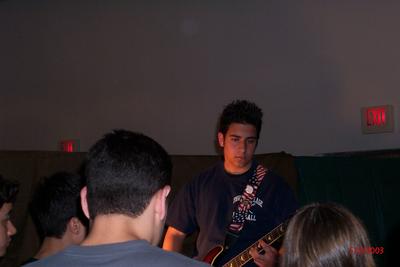 poopykins
NaMe: Mike Matera
Marital status: single but i know someone wants me
Desired marital status: to hook up with a certain someones sister
Favorite bands: NIRVANA, THRICE, ASOB, anti-flag, lagwagon, the misled, CHEER$ TO LE$TER, Ozma, pennywise, mighty mighty bostones,no use for a name, finch, the june spirit, the fad, the sexpistols, strung out, AFI, catch 22, high school football heroes, capitol t, rancid, autopilot off, millencolin, sugar ray(old), the vines, greenday, living end, MXPX, a-mandown, false appearence, patent pending, bobs kitchen, kurby, nofx, 48 in the basement, bigwig, and dream street
Favorite Guitarist: Andrew Sclafani (false appearence) and Joe Satriani
Favorite song: Reason why "tips for lester" is a good name: is tips for lester even a good name anyways?
Things you do when ur not at band pratice: GO ONLINE, practice guitar, hang out with friends, try to play drums, watch wet hot american summer
Equipment: Schecter diamond series C-1+ "electric" guitar, d'addario strings(10 gauge), 96mm dunlop piks, MY nady wireless system, 65 watt Marshall tube (valvestate) amp. Zoom pedal used for practice, and digitec foot switch, or affects pedal used for shows, AND TWO RADIO SHACK CORDS YEA!!!!!!!!!!
Favorite saying or quote: The cure girl: this doesnt look like hot house corn
Some girl: well this burger isnt 100% grade A beef
MEdieval boy: well you know in medieval times nobody knew how to cook beef unless you had a fire.
Cure girl: shut up nobody cares. Ewww this corn....
GENE: hey kid... EAT THE FUCKING CORN AND SHUT YOUR TRAP!!!!!!!! ~wet hot american summer
Best part about being in TFL: rocking out the living room in ryans house, 20 min. breaks when we discuss napkin setlists, tamirs mom, deers made out of paper cups, dizzy, potatoe and wholeweat bread, ornaments that fall and break off the piano, shoes that fly out of nowhere, blown fuses, prank phone calls....
Theres more to a band then looks. Some ordinary people may think not, but you can tell when someone puts there heart into their music,........ then looks seems to be pointless. We may not be the most flashy type band, sure we dont have all the looks but who gives a rats ass.
Having a good time while doing the thing you like most makes you forget sometimes about what someone thinks about you (good or bad) which is the best thing of all........ ~TFL