Joe turns red when he sings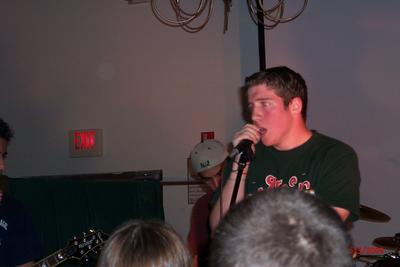 kick ass!
NaMe: JoE Murphy
Marital status: Katie
Desired marital status: Definitely Katie
Favorite bands: Green Day, Blink 182, NOFX, a-mandown, the scooby Donts, False apperance, Patent Pending, the hives, metallica, jimmy eat world, Weezer, MXPX, pennywise, sugarcult, bad religion, the ramones, the offspring, Lit, goldfinger, new found glory.
Favorite singer: Billie Joe from Green day kicks ass.
Favorite song: Auto pilot off- long way to fall JEW (jimmy eat world)-the middle, green day- minority
Reason why "tips for lester" is a good name: Tamir and krell thought of it and it sounded good to me.
Things you do when ur not at band pratice: Football, track, school, listen to more music, making this website, trying to write lyrics (key word- TRYING), playing mario bros 3, playing some bball and chilling with my crew.
Equipment: just a shitty 20$ microphone. Wait, i just got a 50$ one at bestbuy, whoohoo.
Favorite saying or quote: "he's seeing is based on sight"- krell.
Best part about being in TFL: whats there not to like?