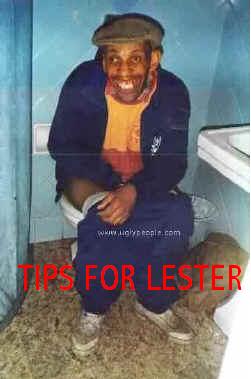 We dont have a band logo just yet, so were gonna use this ugly black guy sitting on a toilet. enjoy.
This is Tips For Lester's official website. We're a local punk band in the Three Village Area on Long Island and we play originals and some covers. Hopefully we'll be playing a few shows this year and we just finished a cd called Pocket Change, just a 5 song Demo so go out and buy it!
TFL is:
Joe Murphy - Lead Vocals
Mike Matera - Lead Guitar, Backup Vocals
Marc Krell - Rhythm Guitar, Backup Vocals
Tamir Taylor - Bass
Ryan Broderick - Drums
Thanks for taking a look at the site. Contact us, and tell us what you think. The site will be updated frequently, so check back soon.